An Evening with Georgie Kennedy- Saturday 25th May
Bookings are now being taken by the Bar for "An Evening with Georgie Kennedy"!
More information about Georgie can be found on her website here: https://www.georgievocalist.co.uk/
Time: 7.00 for 7.30pm
Price: £25.95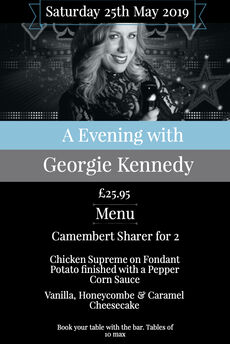 The Table Plan is on the Socials Noticeboard (10 persons max on a table)
Payment is required in advance of the event and your booking is only confirmed when payment has been made.
Menu
Camembert Sharer for 2
Chicken Supreme on a Fondant Potato finished with a Peppercorn Sauce
Vanilla, Honeycomb and Caramel Cheescake
Please note that a minimum of 24 hours notice is required for any changes to the menu.