President's Day 2019 - Juniors' 9 Hole Competition Report
The Junior Section extends their thanks to Mr. President Ian Graham for inviting them to play in a 9-hole Stableford competition on his main prize day yesterday. Some of the juniors that took part are pictured with the President. Before going out to play the juniors were given a Brocton Hall ball marker with "President's Day 2019" on it.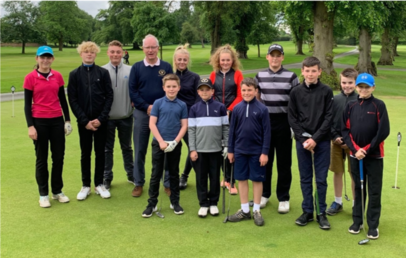 There were some excellent scores recorded for the 9-holes, in fact, as far as I can see somewhat better than the competitors in the main competition! Go juniors go.
1st - Kerr Dollochin with 23 points
2nd - Charley Mears with 22
3rd - David Haenelt with 21
In addition, a sleeve of three golf balls was given to both Alice Higginson and Richard Haenelt for playing below their handicaps, each scoring 19 points.
Whilst our Junior Captain Hannah should have been taking part she was called away for England coaching. However, Hannah wrote a card with her apologies to the President, which was read out at the presentation. Our Vice-Captain Ethan was present and spoke to thank the President for including the juniors as part of his special day.
My thanks go to our on-course helpers, Sarah and James Haenelt, Diane Ferriday and to Colin Thompson for taking photographs of the event. These of course will also appear on our WhatsApp group which Colin runs so excellently.
Well done to all juniors who took part and a huge thanks to Mr. President for his generosity.
Christine - June 3rd 2019