Jam Night- Sunday 17th November
We are pleased to announce the "It's nearly Christmas Jam night"
Featuring DANGER INC. a four piece professional band playing classic rock and blues music, with a bit of boogie and swing thrown in for good measure!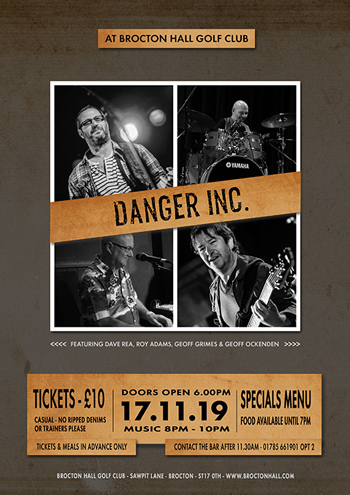 Band leader and guitarist DAVE REA better known as "Dangerous".
ROY ADAMS, "Climax Blues Band" and "Roy Wood band" drums.
GEOFF OCKENDEN, in house bassist at "Ronnie Scott's" bass.
GEOFF GRIMES, played with Jimmy Page and Van Morrison and currently support for Robert Plant on keyboards.
Tickets are on sale at £10, and there is a special menu for the night - see below.
Tickets and food must be paid for at the bar in advance, please contact the Bar on 01785 661901 (opt 2) after 11.30am
(Dress: Casual, no ripped denims or trainers please.)
Menu
Fish, Chips & Garden Peas £10
Beouf Bourguignon with Rice £10
Please order and pay for any food in advance by Wed 13th November.