Hannah wins the Costeloe Cup
Congratulations to Brocton Junior Hannah Golding on her recent success!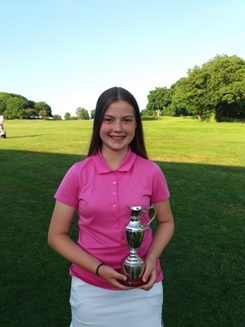 Thank you to Hannah's father John for the following report
"Another eventful and very rewarding weekend - Hannah played in the West of England Amateur Open Championship for the Harper Salver at Bath GC.
This is a highly ranked event on the England Golf Calendar
The first winner of the Harper Salver back in 1982 was Laura Davies.
I'm immensely proud to be able to report that Hannah shot a magnificent net score of -6 under par over the two rounds to win the Nett prize - The Costeloe Cup."
Additional information can be found here: https://www.bdlga.com/open-championship
Congratulations and well done Hannah!