Much Ado about Jazz - 28th April
Tickets are now on sale for the "Much Ado about Jazz" show on Sunday 28th April!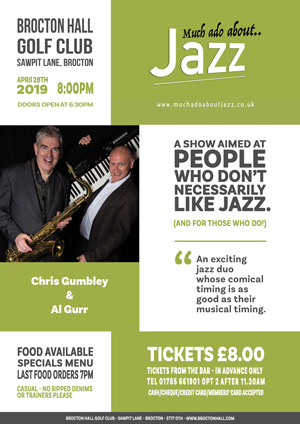 Chris Gumbley(clarinet/bass clarinet/saxophones)
Al Gurr (piano)

"Much Ado" is something a bit different. A show aimed at people who don't particularly like jazz! (as well as those who do)
Featuring unique arrangements of such jazz and non-jazz classics as Norwegian Wood, Tomorrow's World Theme, Take Five and Summertime
An exciting jazz duo whose comical timing is as good as their musical timing -John Barber, Three Shires Festival
Music starts at 8pm (Doors open 6.30pm)
Tickets (£8.00) are available to purchase from the Bar - in advance only with payment at the time of booking. (Tel 01785 661901 Opt 2 after 11.30am)
Payment can be either by cash, cheque, credit card or if you are a member you can pay on your Members' Card.
Non-members most welcome!
Dress: Casual no ripped denims, tracksuits or trainers please.
 
Specials Menu
Slow Cooked Lamb Shank on Buttery Mash with Mixed Vegetables £11.95
Pan Fried Sea Bass on Thai Style Vegetable Noodles with a Soy Garlic, Sesame & Sweet Chilli Dressing £10.95
Griddled Tofu & Celeriac on Curried Couscous with Crispy Battered Cauliflower & a Light Curry Oil £9.95
Please pre-order your food with our Catering Team (Tel 01785661901 Opt 3 - after 11.30am).