Staffs County Girls Pathway Presentation Day
The County Ladies are running a Pathway Presentation/Assessment Day at The Three Hammers on 23rd March.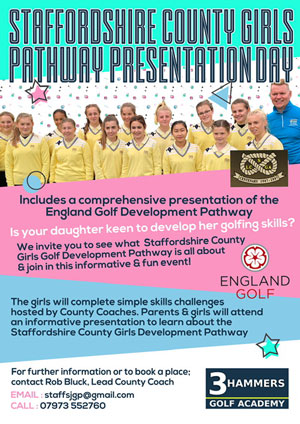 Girls involved in last year's pathway DO NOT need to attend on this day.
It is important that you respond directly to Rob Bluck, by THURSDAY 28TH FEBRUARY to confirm your daughters desire to be included in this years pathway.
Email - robbluckgolf@googlemail.com
Tel: 01902 790428
Please can you inform Rob Bluck of any handicap updates / notable achievements?
In addition if you could copy me in with any communication so that I can keep up to date with what is going on.
Christine Davies - Junior Organiser