Junior Stableford Report 22nd Feb 2019
This was the first time that we had held a Junior Captain's Drive-in and, as always, Hannah was up for the challenge, electing to drive from the white tees with Vice-Captain Ethan.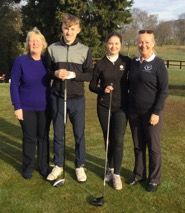 We were delighted that the Lady President, Diane Bell, Lady Captain, Trish Franklin and Nevil were in attendance to cheer them on. Plus all the other juniors who were playing turned up early to watch them tee-off.
Great going everyone. What a great turn out for the first competition of the year with 20 entrants.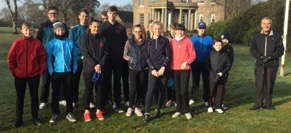 The scoring was excellent with the first four players in Division A (CONGU) getting 37 points.
Division A (CONGU)
1st was Ellie Ashley-Brown, who received a £10 voucher for the Pro's shop;
2nd Ellie Treadwell, £8;
3rd Alfie Poole £5;
4th Ethan Evans £3
Division B (Club Handicaps)
1st Joe McCandless 39 points;
2nd Charlie Mears 36 points;
3rd David Haenelt 35 points.
All received golf balls. With his excellent scoring Joe has now been moved back to the Red Tees with a handicap of 36. Well done Joe.
9 Hole Competition
Kerr Dollochin 16 points and Richard Haenelt played in the 9-hole competition scoring and 15 points respectively. They too received golf balls.
Many thanks to our Starter John Perkin who always does an excellent job for the Junior Section and thanks to On-Course helpers, Paul Sutton, Gilly Cooper, and three new helpers Jane Plant, Kate Farrow and Sarah Haenelt. I hope you all enjoyed the experience!
Christine Davies - Junior Organiser