Tribute to the Home Nations - Sat 6th July
Bookings are now being taken for the Brocton Hall Choir's "Tribute to the Home Nations".
Please make your booking with the Bar and put your details, together with your menu choice, on the Table Plan which is on the Socials Notice Board.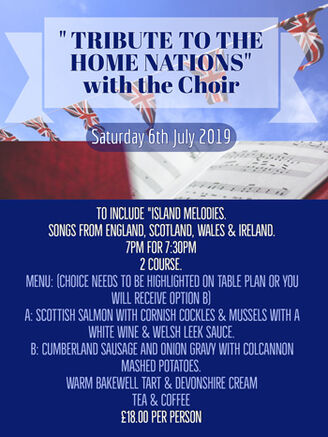 Saturday 6th July 2019 - 7pm for 7:30pm
to include "Island Melodies", songs from England, Scotland, Wales & Ireland.
Menu
NOTE: Your menu choice needs to be highlighted on the table plan or you will receive option B
A: Scottish Salmon with Cornish Cockles & Mussels with a White Wine & Welsh Leek Sauce.
B: Cumberland Sausage and Onion Gravy with Colcannon Mashed Potatoes.
Warm Bakewell Tart & Devonshire Cream
Tea & Coffee
£18.00 per person