Captain's Day - Junior 9 Hole Competition Report
The Junior Section extends their thanks to Club Captain, Steve Metcalfe, for inviting them to play in a 9-hole Stableford competition on his main prize day yesterday. The juniors are pictured with the Captain.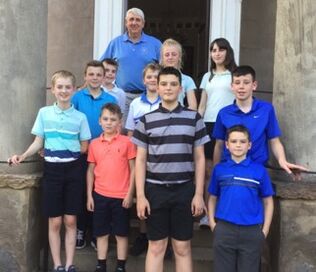 On what was a very hot day the juniors proved that we have some excellent talent.
1st - Richard Haenelt with 19 points winning a golf towel and who won on a better back 6 from -
2nd - Kerr Dollochin also with 19 points, winning a golf glove.
3rd - Daniel Kirsch with 18 points winning some golf socks.
All prizes were supplied by the Pro's shop so could be exchanged if they were not appropriate or didn't fit!
In addition each competitor got a golf ball from our (Junior Section) goodie bag.
I am delighted to say that in winning Richard has reduced his 9-hole handicap by 2 shots down to 18. Go Champ Go. Congratulations to Freddie Booth, Charlie Edensor and Kade Stewart for playing in their first junior competition. Well done lads.
In the absence of our Junior Captain Hannah (away on training) and Junior Vice-Captain Ethan (playing in the main competition) Ellie Treadwell gave the thank you speech to Mr. Captain. Thanks Ellie.
As always thanks to our on-course helpers, Gordon Booth (Freddie's Granddad), Sarah and James Haenelt, Paul Martin (Kade's Granddad), Kate McCandless and Heather Wooding (Charlie's Granddma). A special thank you to Kathryn Mann who stayed after the main field had gone through to ensure the juniors were fed and watered at the Halfway House.
Well done to all juniors who took part and a huge thanks to Mr. Captain for his generosity.

Christine - June 30th 2019