Chetwynd Plate 2019
Congratulations to Junior Vice-Captain Ethan Evans and Lady Vice-Captain Diane Ferriday , winners of the Chetwynd Plate 2019!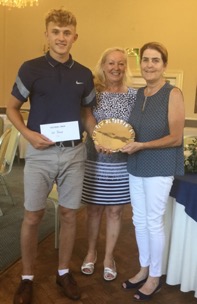 The winners - Junior Vice-Captain Ethan Evans and Lady Vice-Captain Diane Ferriday being presented with the Trophy by Lady Captain Trish Franklin.
| | | |
| --- | --- | --- |
| 1st | Ethan Evans & Diane Ferriday | 48 points |
| 2nd | Ellie Ashley-Brown & Vibber Johnson | 45 points |
| 3rd | Alfie White & Christine Davies | 41 points |
The Chetwynd Plate is a trophy sponsored by the Ladies Section and is played as a Greensome Stableford. The ladies also provide the juniors with a meal following the golf, which is always very welcome - especially for the juniors! In addition the juniors who come in the top three receive a prize. This year these were vouchers for the Pro's shop. Very welcome all 'round.
There were twelve pairs playing and, as you can see, on what was a very warm day the scoring was very impressive. Mind you, I think Ethan was probably still asleep because he had only returned from Portugal at midnight, got up early to do a paper round and then had a 9.00 am tee time. Umm - not quite sure how that works!
Now, a notable event. Alfie White had a Hole-in-One on the 17th. Congratulations Alfie. This was his first hole in one so the pressure is now off Alfie and I am sure there are many more to come.
It would be remiss of me if I didn't note my thanks on behalf of the Junior Section. First, to Alfie Poole who was a reserve for our junior contingent. Thank you Alfie for being there at the start and waiting just in case another junior couldn't make it. I hope that joining everyone for the meal was a little recompense?
To the Ladies Section for sponsoring this event, with all that entails and a special thank you to Nicki Bowen (Ladies Competition Team) who organised everything, including the draw for playing partners. Cheers Nicki.
Christine - July 23rd 2019