Pegasus Trophy Report - Aug 9th 2019
The Pegasus Trophy was presented by Mary Allen in memory of her husband David. David was an avid supporter of Junior Golf and was Assistant Junior Organiser in my previous term of office. Not only that but he was the County Junior Academy Officer at the same time.
The Trophy is played as a Greensome Stableford where a Division A player partners a Division B player. This gives the separate divisions the chance to play together, get to know each other and to integrate. It really is quite good fun.
We had six teams out today and the winners were Alfie Poole and Kerr Dollochin with 46 points. Followed closely by Tom Andrews and Kade Stewart with 43 points and Marcus Smith and Finlay Musker with 42 points.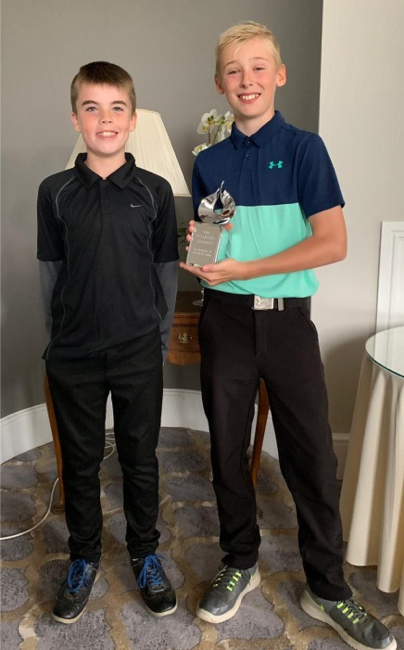 Two very happy-looking young gentlemen with the Trophy.
As always there was a 9-Hole Stableford Competition. First was Harry Sutton with 18 Stableford points, playing to his new handicap. Well done again Harry. Not far behind were Freddie Booth with 16 points and Richard Haenelt with 15 points. Well done lads.
Thanks to J.P. (John Perkin) for his Starter duties and to Gordon Booth and Paul Sutton for looking after our 9-hole competitors. Thanks to Colin Thompson for his support today and for taking the photograph.
Christine - August 9th 2019