Junior Girls' News
What a great year it has been for our girls, with four of them winning some very impressive trophies during the year.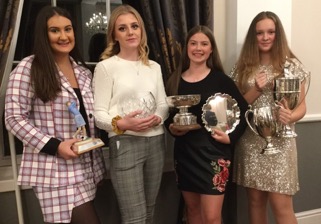 From L to R Ellie Ashley-Brown, Ellie Treadwell, Junior Captain Hannah Golding & Maria Thompson
Ellie Ashley-Brown won "The Most Improved Golfer of the Year". Ellie started the year with a playing handicap of 36 and is now down to 23. Most impressive.
Ellie Treadwell was Runner-Up in the Ladies 36 hole Club Championship.
Captain Hannah, who now plays off a handicap of 2, won the Club Championship; Centenary Salver; Summer Knockout and the Challenge Bowl. The latter is open to all who have won a competition in the previous year, then they go on to play a Knockout Competition – so a long season.
Maria had a fabulous year winning two competitions vied for by all Club players. The first was The Jubilee Cup presented in 1935 to commemorate the jubilee of King George V. Maria's name is the only lady showing on the current Trophy Board. Then, the Rupert Evans Cup goes back even further, being presented in 1923 (the year in which the Club moved to Brocton Hall). The respective sections play a medal and the first four Ladies and Gentlemen in their sections then play a Knockout. The winner of each section then plays against each other in the Final, in which Maria triumphed. An absolute ace of a year.
Hannah, Ellie Treadwell and Maria also play in the Ladies Scratch Matches. All in our junior section are extremely proud of you all.
Christine - November 9th 2019