The Chase Trophy 2019 Report
What a fabulous day we had, the weather was glorious and everyone, both gentlemen and juniors, commented on how much they enjoyed playing. Before the start of play at 11.00 the Captain, Steve Metcalf, asked for a minutes silence in recognition of fallen war heroes. The Chase Trophy was postponed from September because our Junior Level 1 Team reached the Final of the Staffordshire Junior League beating Beau (at Beau) in the semi-final. So our thanks go to the gentlemen for agreeing on this re-arranged date and to Jon Brooks for making it happen.
We had 12 pairs taking part with some great scoring all 'round in this Foursomes Stableford Event.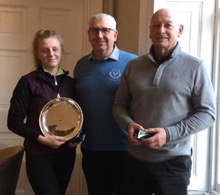 The winners were Ellie Treadwell and Gordon Booth pictured being presented with the Trophy by the Captain, Steve Metcalfe.
1st - Ellie Treadwell & Gordon Booth 37 points
2nd - Max Hunter & Ken Bailey 36 points
3rd - Harry Beaumont & Stuart Hunter 34 points (bb9) from
4th - Charley Mears and Richard Jefferies
The Chase Trophy was presented in 1982 by John Barrett, Captain that year and is sponsored by the Gentlemen's Section who also provide the sandwiches and chips which followed the golf. In addition the juniors who came in the top three receive a prize. Ellie received six golf balls, Max four golf balls and Harry two golf balls.
There were three "2s" scored by; Max Hunter playing with Ken Bailey; Ben Goodall playing with Steve Hirst and Joe McCandless playing with Keith Howe. Each junior received a golf ball. It would be remiss of me if I didn't mention that the Captains had a gross Birdie on the 12th hole. Steve said that in all the years he had being playing at Brocton he had never had a Birdie there before.
Captain Steve welcomed the juniors and said how much he had enjoyed the competition (probably something to do with the Birdie at the 12th?) and Junior Captain Hannah responded by thanking the gentlemen and the juniors for playing and the gentlemen for sponsoring this event and for the food.
On behalf of all the Junior Section may I also thank the gentlemen for their continued support.
Christine - November 10th 2019