Junior Captain's Swansong & Charity Competition Report
Firstly let us say a "BIG THANK YOU" to all that came out and supported the Junior Captain's Swansong (Hannah Golding) and the Children with Cancer charity.
You are all superb and we raised an amazing £287 on the day, a thank you to Maria-Tiffany for organising this event and we hope to make this an annual event with your continued support.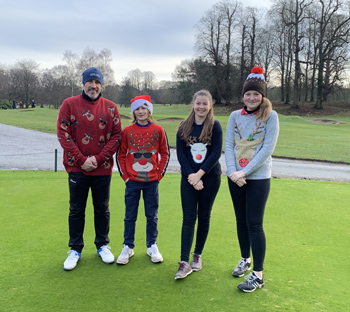 A thank you also goes to the club itself for waiving the green fee for our visitors and allowing them to donate this also to the charity.
We had 29 players from juniors, to parents, grandparents and friends turning out wearing festive hats and jumpers. Some even went further with socks, earrings and even Christmas lights on their golf bag!
The atmosphere was certainly a festive one and first to tee off was our Junior Captain Hannah along with our organiser for the day Maria-Tiffany.
There were some great scores and future handicap cuts coming for the juniors.
To the results which were for Juniors, Adults and Best Festive Dressed Player:
Junior Section:
1st Charley Mears
2nd Thomas Fossdal-White
3rd Joe Hudson
Adult Section:
1st Rob Evans
2nd Steve Burgin
3rd Heather Wooding
Best Festive Dressed Player went to Nicki Bowen
All photos from the day can be seen on the Official Instagram Account: Brocton Hall GC Juniors
Brocton Hall GC for Juniors is not just a collective it is a family and it is times like this when the support and warmth of the club really shows itself. We are proud of each and everyone of you.
Have a wonderful Christmas and hope to se many of you on the 27th December for the Junior/Adult Team Competition.
Colin Thompson - 22nd December 2019