Emma Jonson - Jam Night 1st March 2020
Tickets are now on sale from the Bar for the Jam Night on the 1st March 2020!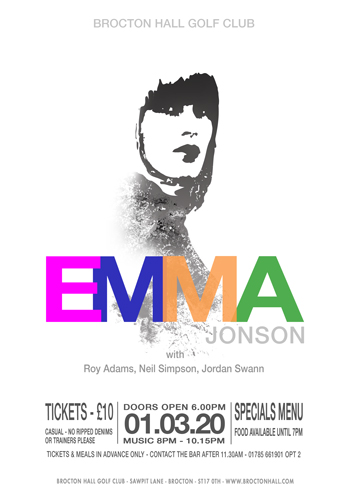 From Emma's website, https://www.emmajonson.com/
"Emma Jonson is an award-winning singer songwriter from the Midlands performing her unrivalled and unique Blues music.
Her musical career took off in earnest following a stunning performance at Marlborough Jazz Festival with Steve Clayton. Emma went on to play festivals throughout the country, including main stage at Upton Blues, Birmingham International Jazz Festival and at Congleton Music Festival.
In this period, Emma won the Best Newcomer Award at the Marlborough International Jazz Festival and went on to support Heather Small, formerly of M People, as well as Roy Wood, on his 2017 UK tour.
Now, in 2019, things are even more exciting for Emma as she releases her first studio album. Expect big things and the remember the name."
Tickets are on sale at £10, and there is a special menu for the night - see below for details.
Tickets and food must be paid for at the bar in advance, please contact the Bar on 01785 661901 (opt 2) after 11.30am
(Dress: Casual, no ripped denims or trainers please.)
Non-Members most welcome!
Menu
King size Haddock, Chips & Mushy Peas - £10
1/2 Roast Chicken, Chips & Petit Pois - £10

Please order food in advance by Tuesday 25th February
To order please contact the Bar 01785 661901 (Opt 2) after 11.30am