Junior Dinner - Jan 5th 2020
What a great evening again, we had 83 people in attendance. Our thanks go to Mr. President Ian Graham, Lady President Diane Bell and Mr. Captain Steve Metcalfe for their attendance and for presenting the prizes. We had an apology from the Lady Captain Trish Franklin, who was unavoidably detained on family business.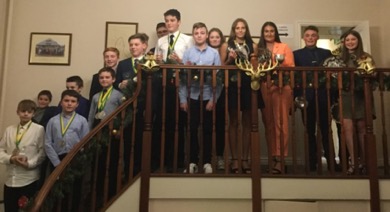 Many thanks to Nevil and Mike for organising the Quiz. Plus to Nevil for putting photos of our juniors (taken throughout the year) onto the TV screen in the Lounge.
Our thanks to the President for saying Grace and to Mr. Captain for the Welcome Speech.
The Junior Organiser, Christine responded (more of which in a separate communication).
Junior Captain Hannah handed over to our new Captain Ethan Evans who also introduced Ellie Treadwell as our new Vice-Captain. Ellie could not be present but her apologies and acceptance speech was read out by Hannah.
Prize Winners
| | | | |
| --- | --- | --- | --- |
| MEDAL | APRIL 19th | Div. A | Bethan Ashley-Brown |
|   |   | Div. B | Oliver Clark |
|   |   | 9-hole | Elliott Clark |
| MEDAL | MAY 31st | Div. A | Max Hunter |
|   |   | Div. B | Charley Mears |
|   |   | 9-hole | Richard Haenelt |
| MEDAL | JULY 26th | Div. A | Cameron Efford |
|   |   | Div. B | Charley Mears |
|   |   | 9-hole | Richard Haenelt |
| MEDAL | AUG 30th | Div. A | Max Hunter |
|   |   | Div. B | Thomas Efford |
|   |   | 9-hole | Oliver Nichols |
| CHASE TROPHY |   |   | Ellie Treadwell & Gordon Booth |
| CHETWYND PLATE |   |   | Ethan Evans & Diane Ferriday |
| JUNIOR TROPHY |   | Div. A | Bethan Ashley-Brown |
|   |   | Div. B | Charlie Mears |
|   |   | 9-hole | Richard Haenelt |
| JUNIOR CAPT'S DAY |   | Div. A | Hannah Golding |
|   |   | Div. B | Ellie Ashley-Brown |
|   |   | 9-hole | Thomas Efford |
| OAKWOOD CUP |   | Div. A | Max Hunter |
|   |   | Div. B | Arthur Squire |
|   |   | 9-hole | Richard Haenelt |
| JOHN ASTLEY M.T. |   | Div. A | Ellie Ashley-Brown |
|   |   | Div. B | David Haenelt |
|   |   | 9-hole | Jay Atkin |
| IAN MACFARLANE |   | Div. A | Tom Andrews |
|   |   | Div. B | David Haenelt |
|   |   | 9-hole | Oliver Nichols |
| BRYAN BAKER |   | Div. A | Ellie Treadwell |
|   |   | Div. B | Jay Atkin |
|   |   | 9-hole | Richard Haenelt |
| PEGASUS TROPHY |   |   | Alfie Poole & Kerr Dollochin |
|   |   | 9-hole | Harry Sutton |
| JACKSON SHIELD |   | Winner | Ellie Treadwell |
|   |   | Runner-Up | Ellie Ashley-Brown |
| BLUE TEE GOLFER of the YEAR |   |   | Kerr Dollochin |
| ERNEST GREEN SALVER |   |   | Max Hunter |
| CHAMPIONSHIP/MEDAL |   | 9 hole | Harry Sutton |
|   |   | Div. B | David Haenelt |
|   |   | Best Nett | Max Hunter |
|   |   | Champion | Hannah Golding |