Junior Newsletter - 28th Jan 2020
The first part of this is a follow-on from the Junior Prize Presentation Dinner. As a response to the Welcome Speech by Mr. Captain, Steve Metcalfe, I said that I was exceptionally proud and privileged to be associated with Junior Golf at Brocton Hall and have known both our Captain Hannah and Vice-Captain Ethan since they joined the Club at the age of 8 when both had 9-hole Blue Tee handicaps. What an inspiration they are.
The Junior Committee were very pleased to invite John Perkin and Diane & Peter Allder to accept Honorary Membership of our Junior Section. This was a small recognition in light of all the work and support offered by them to our Junior Section over the years.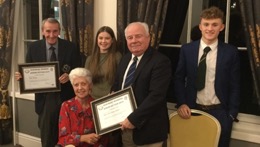 John, Diane & Peter being presented with their Certificates by Captain Hannah and Vice-Captain Ethan.
We had a superb year in Celebrating the 125th Anniversary of the Club which culminated in a Texas Scramble competition followed by a Barbeque. Our thanks go to Yvonne & Stuart Hunter for sponsoring the prizes for this. To celebrate this event all juniors present were given a 3-minute timer on a wooden back which showed BHGC 125th Anniversary. These were designed to hang on a golf bag and to be activated (i.e. turned upside down) when searching for a ball (on the golf course!).
We applauded Maria-Tiffany Thompson for her excellent achievements in winning the Club Jubilee Cup and also the Rupert Evans K O competition. Both Trophies were on display. In addition, Maria and family also hosted a Charity Event on December 22nd in aid of the Children with Cancer Charity. £287 was raised. Very well done Maria.
Alfie White was congratulated on his performance in the Junior European Championship and was presented with a Certificate for his Hole-in-One when playing in the Chetwynd Plate.
Now to this year. All boys playing from the Red Tees have been allocated a CONGU handicap (from the Red Tees). This means that we must re-organise the descriptions of our competitions and how they are to be played. The committee is in agreement that, for 2020 (at least) there will be only one Division. Apart from where stated under the Competition Descriptions, all will play a medal competition.
All juniors with CONGU handicaps will be entitled to win the major trophies and both the winner and Runner-Up will get the appropriate glass plaque at the Presentation Dinner. There will, of course, still be a separate Division for those who play from the Blue Tees.
Watch this space and emails for future news.
Christine - January 28th 2020