Junior Captain's Day Report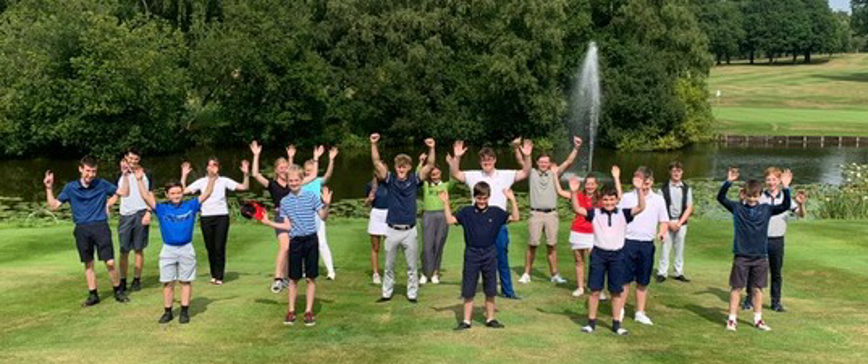 Who would have thought it that not so long ago we didn't know if any Events were going to happen! So this was a great day for our Junior Captain Ethan. It started well and just got better.
Our Thanks go to the Lady Captain, Diane Ferriday, was there to welcome all participants, to Nevil who gave Ethan two boxes of balls to be shared with the players; to Colin Thompson who was in charge of photography and to the Lady President Mary Harris and Mary Allen for attending to our needs in the Halfway House. All Blue Tee players were given (in a "socially distanced" bag of course) a golf ball and Sharpie pen.
There was some great scoring as shown below. Prizes were Vouchers for the Pro's shop and these could be said to be "virtual" as no paperwork changed hands. So the amounts shown below have been added to each Account.
What is less obvious is that there are three trophies associated with this day. These are for the Best Nett and Gross in Division 1 and Best Nett in Division 2. All will be engraved in due course. Many thanks to Presidents Peter Bright and Mary Harris for their support during the day and to Peter for giving words of welcome at the Presentation. This was followed by a "Thank-You" speech from Ethan.
A special note to our lads; Daniel, David and Jay who used this competition to move back to the White Tees. Great going guys I am proud of you all.
This report would not be complete without a huge thank you to Nicki (Bowen) not only for being on the Course with our Blue Tee Juniors but, for also finalizing the competition. The CSS were 69/68/70
The scoring in the Blue Tee 9-hole Competition was very good with the four competitors, Elliot, Thomas and Richard all playing near their respective handicaps. Playing 4 below his handicap with 22 Stableford Points, the Winner was Freddie Booth. This cuts his Handicap by 3 shots down to 21. Well done Freddie, who received a £10 Voucher
Division 1 (H'caps up to 20). Winner - Alfie White Nett 67, cutting his handicap by 0.2, now 5.1. Received £25. Alfie also achieved the Best Gross Score of 72. Runner-Up - Hannah Golding Nett 70, received £20
Division 2 (H'caps 21 to 36). Winner - Alice Higginson Nett 66, cutting her handicap by 1.2, now 24.6. £25. Runner-Up - Kerr Dollochin Nett 69, £20
Best Front 9 - Tom Andrews; Best Back 9 - Ellie Ashley-Brown. Both received a £10 Voucher
Nearest the Pin, which was open to all players, including our 9-hole players was Junior Captain, Ethan Evans, who got a £5 Voucher. Ethan's Dad Rob used a laser measure for judging distances.
Thanks to Rob and Ethan's Mum Zoe for coming to support the day.
Christine - August 15th 2020