Mr. Captain's Day 2020 - Juniors' 9-hole Competition
On behalf of the Junior Section our thanks go to Mr. Captain, Mark Newman, for giving us this special competition. Mr. Captain wished to make this a fun day, so we held a Texas Scramble, in teams of three, which everyone so enjoyed and the encouragement to each other was fantastic to see.
Mr. Captain also held a "Captain's Challenge", where any junior who beat him to Nearest the Pin on the 3rd hole received a sleeve of golf balls. All juniors taking part were not only given a golf ball but, also received club cleaning brushes which retracted into a holder which showed the Brocton logo and "Captain's Day 2020" on the outside. The winning Team each received a voucher for £10 to be spent in the Pro's shop. A win-win situation all 'round.
We are really fortunate that the Officers of the Club and Management are so supportive of our Junior Section, thank you one and all.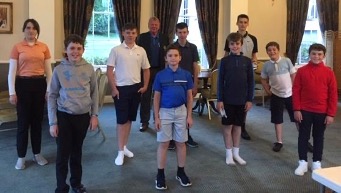 The competitors are shown here with Mr. Captain. So, who beat Mr. Captain to NTP? Well that would be David (Haenelt) who hit a superb shot to finish about 8 inches away, and Kerr (Dollochin) who finished about 6 feet away. No pressure there then Mr. Captain?
The scores were fantastic with Gross "Birdies" and "Pars" littering the score cards. The most interesting statistic was that the gross scores for all the teams ended up within one shot of each other with scores of 39/39/40. Not only that but, by the time the appropriate % of their combined handicaps was deducted, they ended up within 0.8 of a shot of each other on Nett Scores of 34.7/33.9/34.15. Brilliant. And the winning team was David, Kerr and Thomas (Fossdal-White). Congratulations guys.
Our thanks are not only extended to Mr. Captain but also to the President and Lady President for attending the Presentation and, of course, the ladies in the Halfway House.
Christine - August 24th 2020