Texas Scramble and BBQ – Friday 27th August 2021
This annual Bank Holiday event proved very popular again with Junior members and their families joining us for a BBQ in the afternoon, after the Juniors played a Texas Scramble Stableford using on 3 clubs and a Putter in the morning (the Juniors who played 9 holes off the blue tees, played with all their clubs). The Scores were all within 3 shots - fantastic. The scores were 47, 48 and 50 points, with the Winners of the 18-hole Event being Bethan Ashley-Brown, David Haenelt and Jay Atkin.
For the BBQ, Nevil set up a "putting challenge" (forget greens think of fairways/semi-rough. A prize, courtesy of Nevil was a golf cap, the challenge being to "Putt" the ball down the slope into the hole. Amazingly there were two winners Elliot Clark and David Haenelt. There were other games, which the juniors set up, including Knock-a-Can down; Boules; Quoits; a chipping one (in the walled garden) and Badminton which Thomas Fossdale-White and Alfie Warke had great fun with, unfortunately they kept losing the Shuttlecocks, up the tree, down the grating, wherever!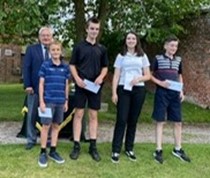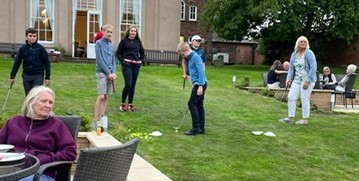 Thank you to all you helped set up and helped during and after the golf including Club President, Richard Jefferies who is always a staunch supporter of the Juniors.